How to Choose the Right Video Hosting Platform from the Best?
'Me at the zoo', an innocuous-looking title appeared on a portal, uploaded from an account named Jawed, 16 years ago.

It was the first-ever video uploaded on a platform that would change the way the world consumes videos- YouTube. Today, YouTube's users consume more than 1 billion hours of video every day.
Source: Screengrab from YouTube
Videos are the rage nowadays. Even Instagram that was started as an image-sharing social networking website admitted something interesting a few days ago- "We're no longer a photo-sharing app." For an app that was always referred to as an image-sharing app, this statement is proof of how videos have seeped into our lives and businesses are pivoting their models to accommodate this resurgence.
Why? Because they believe that there is immense potential for videos. They recently launched Reels, its own take on TikTok-like virtual videos.
There is no doubt that videos are going to be ubiquitous, regardless of the platform and the device used. With 5G being rolled out in many parts around the world, streaming videos wouldn't be a problem anymore either.
Why are videos important?
Here are a few reasons why videos are important for businesses.
Videos allow you to connect to your audience in a way that no other type of content can.
There is a personal touch where you visually show your audience who you are.
Videos have an air of vulnerability surrounding it and that makes a lot of difference to the viewer.
Our brains are better suited to process visual information faster than plain text. According to research by Comprehensive Media Inc, only 20% of your website visitors will read a document, while more than 80% will watch a video.
According to Wyzowl research, 87% of video marketers say that videos give them a positive ROI. If you look at the graph below, you will note that the number was just 33% in 2015. The numbers have been increasing with each passing year.
Videos improve your brand's visibility and elicits an interest for people to know about your services and products.
Websites with videos are known to have an average conversion rate of 4.8%, while one that doesn't use videos see only 2.9%.
Source: Hubspot.
The above report says that the interest and importance of videos for brands have only increased during the pandemic. You can clearly see that videos are going to be a content type whose consumption will keep increasing.
Creating relevant videos that appeal to the business' demographic is a marketer's wet dream.
Video marketing statistics for B2B and B2C platforms: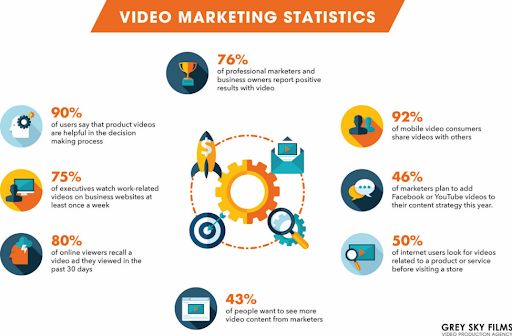 94% of video marketers say videos have helped increase user's understanding of their product or service
84% of video marketers say that videos have helped them generate leads and increase sales
96% of people have watched an explainer video to learn about a product or service
People are twice likely to share video content with their friends and family than any other type of content
85% of people would like to see more videos from brands in 2021
What is a video hosting platform?
A video hosting platform allows users to upload and store video content on the Internet. If you were planning to upload videos on your server, since it is heavier than textual content, it might not be able to take the load. That's why businesses rely on video hosting platforms where they could upload high-quality videos without being pulled back by server lags.
Some of the best video hosting platforms in 2021 are Brightcove, SproutVideo, Vimeo, Facebook, Dailymotion, YouTube, Wistia, Jetpack WordPress video hosting, vooPlayer, Instagram, Snapchat, and TikTok.
Free vs Paid video hosting platforms:
There are a lot of free and paid video hosting platforms. Each of these tools has features and benefits that vary from each other. Some of the free video hosting platforms are YouTube, JW Player, Dailymotion, Google Drive, Instagram, Twitter, and Facebook. Free video hosting platforms are fine for businesses if they do not have to worry about protecting the videos or be anxious about them being circulated to people who should not have access to it.
Why should you avoid free video hosting platforms?
Businesses use videos for all types of internal and external reasons. While some of the videos can be shared with people outside the organization, that is not the case for those that are of confidential nature. Even though using free video hosting platforms are good for sharing video content because of factors like familiarity, cost, not having to worry about IT networks, etc., there are certain things you should not do on one.
You wouldn't want to share a video that contains proprietary information to the public. For example, you wouldn't want internal meetings being broadcasted to the general public, would you? While these platforms will have privacy settings that will make it difficult for people outside the organization to gain access to your videos, the problem is this- it isn't secure enough.
When you make a video hosted on a free video-hosting platform 'undiscoverable', there are still chances of it going into the wrong hands when you share links.
Even password protection and permission-based sharing aren't secure either. With a click of the button, inadvertently, you, or anyone could be sharing the video with someone else who isn't supposed to access them.
Thanks to the Terms of Use of these companies, you might even be giving your videos royalty-free, including the permission for them to copy your videos without as much as a "How do you do?".
You don't get comprehensive analytics of the video.
You will not have complete control over the branding of the video.
Pre-roll ads and promotional videos can provide a jarring experience for your viewer.
Little to zero customer support.
Let us look at a few paid video hosting platforms:
#1 Wistia:
Although it is as much a video hosting website as a digital marketing solution, it does have advanced features such as the ability to add CTAs within the video, allows you to embed lead capture forms, and so on. With Wistia, you can generate custom audiences for remarketing campaigns, capture leads, integrate the data with your CRM, and so on.
#2 Jetpack:
Not many know that Jetpack offers video hosting along with its Premium and Professional plans of its WordPress plugin. It has a 2 TB storage limit. Thanks to Jetpack video blocks, you can easily embed videos into your WordPress posts and pages. The only downside to Jetpack as a video hosting platform is that you cannot edit the video, add CTAs or collect leads with it.
#3 Spotlightr:
Here is a full-fledged video hosting platform that is for professionals. Spotlightr has a lot of advanced features such as adding timed buttons, overlays, adding email-gates, share-gates, phone-gates, etc. You can even create video funnels based on the answers that your respondents give in the videos.
Source: Spotlightr
#4 Brightcove:
It is one of the most popular enterprise video hosting platforms and even has two Technology and Engineering Emmy awards to show for it. It has integration capabilities with marketing automation tools. The tool even offers advanced server-side ad insertion that integrates with major DSP solutions. Brightcove works well for enterprises and can be a bit too advanced for small businesses.
#5 SproutVideo:
Here is another video hosting platform that is for serious business users. Thanks to its automatic bandwidth detection and quality adjustment, viewers can enjoy smooth playback. Its AES 128 encryption enables the secure delivery of videos. SproutVideo's embed codes work like a charm on platforms such as Spotify, Squarespace, WordPress, etc.
#6 Show by Animaker:
From the house of Animaker, Show is a video hosting platform that has the perfect set of growth tools to attract, engage and convert your viewers into paying customers. It is the world's first video tool with built-in CRM. Thanks to its no-code integration, anyone from your team can use the tool effectively without guidance. Also, it becomes easy to add any kind of marketing, sales, or productivity tools to the mix because of its integration capabilities.
Getshow has tools to increase the interaction with your viewers. You can add CTAs, annotations, turnstiles, add surveys and quizzes too. One of its best features is the total customization of the video that you can do, everything from its look and feel to its functionality.
Comparison of different video hosting platforms:
Platform
Functionality
Price
SproutVideo
1. Works well for those who are looking for live streaming and VOD options
2. Detailed analytics reporting
3. Variety of customization features
3. API access
Four pricing options:
1. Seed $24.99
2. Sprout $59.99
3. Tree $199.99
4. Forest $499.99
Vidyard
1. It is an all-in-one video platform for marketing, sales, and communications teams
2. Built-in SEO and video analytics tools
3. Intuitive playback options
4. Comprehensive data reporting capabilities
5. Custom security controls
Individual:
Free $0/month
Pro $15/month

Teams:
Teams $300/month
Business $1250/month
JW Player
1. It is the world's largest network-independent platform for video delivery and intelligence
2. If you are a non-commercial site, it is free for you
3. Ad optimization and analytics tracking
4. Customizable branding
5. Real-time broadcasting and Publish Scheduling
Apart from a 30-day free trial, the Starter pack is priced at $10/month.

If you have specific needs, then you can get in touch with them to understand more about their pricing models
Vimeo
1. It's great for live streaming and screen recording
2. It has a lot of customization provisions
3. Capture videos with professional-quality live streaming
4. You can create a subscription streaming service for your videos
Plus, Pro, Business and Premium plans are priced at $7, $20, $50 and $75 per month.

Or you can try any plan for 30 days.
Facebook
1. It has a huge audience.
2. You can host unlimited videos on the platform
3. You can build an audience on the platform
Free, unless you want to promote your videos to your target audience. The prices vary based on a variety of demographic factors
YouTube
1. It is the biggest video sharing website on the internet.
2. You can also make money by earning a percentage of the ad revenue
3. Easy to embed videos using iframe codes
4. Unlimited cloud storage for your videos
5. Tap into YouTube's audience to build your brand
Free to use
Uscreen
1. It is a digital video course platform.
2. You can create and sell videos using this platform.
3. Integrate with OTT apps
4. Better than your regular LMS options
5. Custom pricing models available based on your requirements
Basic and Amplify plans are priced at $49 and $499 per month. For customized plans, you need to get in touch with them
Show by Animaker
1. It has a specific set of tools to grow your audience, right from attracting them to converting them into customers.
2. You can run video-based email campaigns and send video drips.
3. Show's built-in CRM provides you with comprehensive video analytics.
4. Capture leads from your videos.
5. Rank better in search engines by optimizing your videos effectively with captions, metadata and whatnot.
6. Lightweight and SEO-friendly
7. It does 360 degree customer profiling which makes it possible to attract, engage and retain customers.
For the first 500 customers, it is free.

The Starter pack is priced at $23.20/month.

The Pro pack is priced at $79.20/month.

If you want an enterprise solution, you can get in touch directly with the team.
Benefits of a paid video hosting platform:
For brands that are serious about their video strategy, choosing paid video hosting platforms are a no-brainer. A paid video hosting platform provides you features that can make a world of difference to your videos, not only in terms of aesthetic appeal but also with regards to the features that could be leveraged with it. Marketers know that a paid video hosting platform will give returns many times over.
#1 Actionable analytics:
While you will get an elementary level of analytics when you use free video hosting platforms, the paid ones give you an insight into the exact numbers. How many people watch your videos, how many minutes did they spend on each video, at what time did they leave the video, which parts had the most engagement, and so on.
Source: Vidyard's Analytics dashboard
Source: SproutVideo
The above image shows the demographics of the video's viewers. It shows the impressions and number of plays, the most popular videos, location of the users, and the domains that are playing your video.
#2 Advanced security features:
We've been yelling ourselves hoarse about the lack of security features in free video hosting platforms. Thankfully, paid video hosting platforms have to give a lot of thought to security features and they have rigorous standards when it comes to it. If you decide not to share a video, it will stay that way.
#3 Complete control over the video:
Customization features that lets you have complete control over your video's color, controls, size, positioning, and more, all of this without having to write a single line of code. You can use the features of paid video hosting platforms to make sure that they are in line with the design and style of your website.
Source: Uscreen
#4 Customer support:
If you pay peanuts, you get monkeys. The same dictum works for free and paid tools too. Imagine expecting a response from YouTube to your support email within 24 hours of sending one. Seems far-fetched, right? But a professional video hosting platform has to cater to your issues immediately because the price you pay for it includes the support.
#5 Easy collaboration:
Professional video hosting platforms allow you to control the audience who will have access to your videos. The ability to approve controls of the video makes collaboration easier. There will be no spam comments. No trolls. Only your business associates who will offer their valuable inputs to the video.
Source: Wistia's Collaboration features page
How do marketers benefit from video hosting platforms?
There are different types of videos that a business can create to attract their audience. Each of them have their own advantages. A how-to video will tell your prospective customers how to benefit from your product or how to use its features effectively. Showing culture videos will tell your prospective employees and customers that you are a bunch of interesting people, and that it is a great place to work at. Explainer videos will make it easy for those who are interested in your product to understand you.
Cisco estimates that by 2021, 82% of internet traffic will be videos. Marketers will need to up their video making skills. With more videos, more bandwidth would be required. More bandwidth asks for a greater need for stellar video hosting platforms.
Here are a few pointers on how video hosting platforms benefit marketers:
Use video lead capture tools to grow your list
Increase the conversion rates with email embed codes
Integrate the video with marketing automation platforms like Mailchimp, HubSpot, Zapier, etc.
Improve your search engine rankings with video SEO
Re-create the in-store experience with the help of videos
Launch new products with the help of live streaming
Create detail-rich product marketing videos to have hyper-engaged viewers
How does the video hosting platform vary business to business?
Let us look at a few of the most popular video hosting platforms, and see some of its use cases and features.
YouTube:
It is easily the most popular video streaming service in the market. You can create your YouTube channel and upload your videos by simply signing up with a Google account. YouTube is the second biggest search engine in the world, and the content that you upload here reaches people from across the world. With the right video, you could have millions of views. They also rank highly in search engine results because it is a part of Google.
Source: Briggsby
The above line graph tells you the ranking factors for YouTube videos. The number of views on the video ranks high as a factor for ranking your YouTube video. The total number of comments on the channel helps you less than the number of comments on a particular video.
The problem with YouTube is that the users are going to look for a different video because the platform is designed in such a way that people keep looking for one video after the other. With YouTube, there is no limit to data storage. No bandwidth limit. For marketers, it is a pivotal part of their content marketing.
Show by Animaker:
With Show, you can create a video funnel using which you can improve your conversions, increase revenue and retain your customers. The video hosting platform's look, feel, design, and everything related can be under your control. You can embed the video on your website, email, or even on mobiles. The video infrastructure is so advanced that it has accounted for the future, your video can handle 480p to 8K and anything from 2G to 5G.
If you are looking to generate and capture leads, then Show is the best tool in the market. Your videos can act as your sales funnel with Show. You will be able to see heatmaps, engagement graphs, viewership, regional data, and advanced reports that are easy to understand, and the ability to profile customers for segmenting them for your campaigns. For the marketing team of a company, this changes the way you do videos.
JW Player:
For businesses that live stream regularly, JW Player allows you to host the original video while casting it simultaneously on Facebook Live. Therefore, your content doesn't get locked into Facebook either. It offers real-time analytics on the domain, geography and device used. Since it uses HTML5, the download speed is exceptional. It works with enterprises, especially publishers like Vice, BBC, etc., taking a keen interest in them.
Source: JW Player
Vidyard:
Create personalized videos at scale with Vidyard. It has native Salesforce integration and is also possible to connect with ZenDesk, MailChimp, HubSpot, Marketo, etc. If you are into Account-Based Marketing, Vidyard should be your go-to video hosting platform.
Loom:
The two main use cases of Loom are 1. Internal training and 2. Product demonstrations. It is a screen-sharing tool and not one that you use only to host your videos. The screen recordings get uploaded automatically and you get a link to share the video with your associates.
How to choose the right video hosting platform?
When you are trying to choose a video hosting platform for your business, there are a lot of things that you need to consider. Here are some of the features that you should be looking for:
#1 Mobile video hosting:
Being accessible on as many devices as possible will let you reach your business associates or your audience with ease. Your all-device video player makes sure that it is playable on all modern devices. People prefer an omnichannel experience when they consume any type of content these days. Ensure that your users have a seamless experience on their mobile because most people access content via mobile these days.
#2 Robust security features:
When you are creating content for your associates or even for users, seeing it fall on someone else's hands is not a pretty sight. It can put your business under jeopardy if the videos that slipped out of your possession were confidential in nature. Using a professional video platform protects your content from being stolen. There should be a lot of checks and balances in place to ensure that even by accident there is no untoward incident.
Source: Sproutvideo
No hack, plugin or any downloader should be able to download or share the videos streamed through the tool. See if you could find dynamic watermarking to discourage screen capture. Check if the tool offers enterprise-level security options such as hotlinking protection, network control, token authentication, free SSL, and so on. You should be able to provide varying levels of access to your videos based on conditions suited to your business needs.
#3 Customization abilities:
A premium tool should allow you to customize the look and feel of not just the video, but the video player itself. You want complete control of the colors used, the size of the button, placement of the CTA button, and so on. It should be possible to incorporate your brand identity in the video. The business should have control over the content they can show if the video has been viewed already.
#4 Sharing and embedding capabilities:
As a marketer, you want to place the video in different places to increase its visibility. Embed the video directly in an email or place it somewhere on your home page. The video hosting platform that you choose should be able to help you easily share and deliver content from a technical POV.
Image source: Wave.video
A robust tool will offer you advanced integration capabilities with the marketing and automation tools that you use. Make sure that the embedding codes are compatible with your functionality, styling, website template, etc.
#5 Video transcoding and encoding:
When you upload videos, whether it is live or pre-recorded, it needs more than just the ability to send the videos to your CMS. For a pre-recorded video, your video hosting platform needs to have an automatic video transcoder. A video transcoder converts your videos to different formats so that it can be played on different platforms and devices. If your hosting platform does not have automatic transcoding, you have to convert each individual file in different formats.
Source: Brid.tv
For content that you are streaming live, your video hosting platform should have encoding capabilities. Video encoders take raw images from your camera and use encoding software to compress those files so that they can be delivered to users. If not for this, it becomes impossible to play on most devices as the video would lag and there will be continuous buffering which will spoil the experience of the viewers.
#6 Budget:
While there are free tools, we will never encourage you to waste your resources on them unless budget is the most important criteria for you. Free ones lack features that might be really important for your videos. Have a number in mind above which you will not be spending monthly on the video hosting platform. More often than not, the vendors will be happy to give you a discount. But make sure that the tool you choose has the features that you want before using filters only based on price.
#7 Analytics:
Every hosting platform, including the free ones, offers analytics. A free tool might only be useful if you are a solopreneur, but if you need hardcore numbers that will help your B2B business, then you need to go with paid hosting platforms. When evaluating the tool, get answers to the following questions:
What are the KPIs that my business needs to measure?
Can this platform track all these metrics?
Do they provide in-depth analytics that will help me make business decisions?
Is it possible to understand the reports that the platform generates?
Source: Vidyard
Ask for sample reports of what the tool provides and it will help you understand the kind of in-depth numbers that you can get. While functionalities are important for a video hosting platform, you have to take a look at its reporting capabilities for sure.
#8 Video Content Management System:
When hosting videos for your business, you need a robust CMS which will allow you to quickly upload, store and organize your content. A good video CMS will offer a plethora of features which include:
Capability to upload in bulk
Embed videos anywhere
Editing/deleting videos in batches
Add custom thumbnail to your videos
Create custom playlists of videos
Has the ability to group videos
Update embed codes without changing the video URL
When there are a lot of videos, features such as the above make it easy to manage them.
#9 Storage and delivery:
When you are hosting your videos on a 3rd party site, you would want to know how your videos will be stored and served. Will it be on a private cloud? A local server? Or will it be on a Content Delivery Network (CDN) handled by the video hosting platform? Your best option would be to choose a platform that stores your videos on your CDN. CDNs will deliver your videos from the server which is closest to the physical location of the user, which results in faster loading times and a great experience for the viewer.
#10 Bandwidth limitations:
Another important thing that you need to take into consideration while choosing the video hosting platform is limitations on bandwidth. Ask them if there is a fee if you cross the bandwidth limit or will the videos become slower or freeze? The bandwidth limitations usually depend on the pricing structure that you have negotiated with the vendor. Do not scrimp on the fees if it will mean that there will be bandwidth limitations. The last thing you want to do is give your viewers a bad experience.
Why should you say no to self-hosting?
Self-hosting can get really complicated. There are a lot of things that need to fall in place for your video streaming to be right. Let's explain what self-hosting is. Instead of embedding an external video, self-hosting is coding a video player into your site. Unless you have the expertise for building a player, it can get really exhausting and can be detrimental for your business prospects.
Some of the limitations of self-hosting are limited privacy features, limited bandwidth, difficult file conversions, slow speed, and clunky videos. You can eliminate all of this by simply using a powerful video hosting platform that reduces a lot of effort for you, not to mention that it works according to your expectations.
Conclusion:
Choosing the right video platform can save you a lot of headaches and get your marketing game on point. The most efficient video hosting platform will be one that lets you upload videos and provide a satisfying experience to the end-user with as little effort as possible. We have listed some of the best tools that are available in the market, both free and paid. Make sure that the tool you finalize has all the features you want.