Video Email Marketing Benefits: Why to use Videos for Marketing
Video marketing and email marketing are two very popular marketing strategies in today's age. But what if you combine the two? The result would be a deadly marketing technique that can reap shockingly good results.
Video email marketing is no different from regular email marketing. You keep in touch with your leads and customers through emails to promote your products/services. But what makes video email marketing specialists, as the name suggests, is the involvement of videos.
Sounds too ordinary? You might want to rethink that. Videos and emails are critical ingredients for lead nurturing and growing your revenue. When combined, the benefits you receive increase manifold. When we talk about video email marketing benefits then we also need to focus on the video email marketing software that plays an important role in this process.
So, if you want to start bagging up to 66% more solid leads, video email marketing is your way to go.
Why Use Videos in Email Marketing?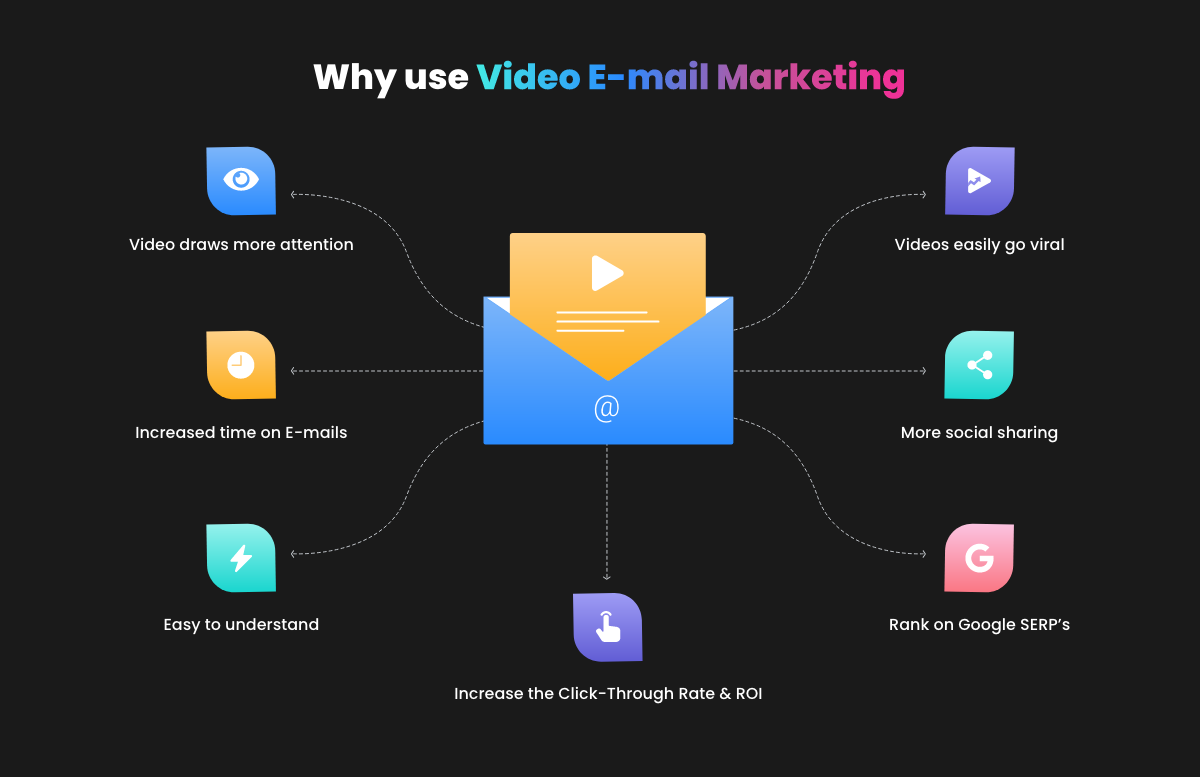 There is no doubt that videos are the hottest content channel today.
On average, 78% of people watch online videos weekly and 55% view them daily. In fact, 60% of people would rather watch an online video than television!
The statistics are pretty clear— everyone loves videos. So, it can be pretty easy to deduce that including them in your emails is a mind-blowing idea.
But if you are still on the fence about why videos are a good idea for your email marketing strategy, here are some more reasons why you need to use videos in email marketing:
1. Videos Draw More Attention
As the world has become technologically advanced, our attention span has gone down. Drawing eyeballs on your content is difficult enough. Retaining them and keeping them hooked until the end is practically back-breaking.
Videos come to your rescue over here. With both audio and visuals at play, they attract more attention from people and also retain it longer.
In fact, videos are growing popular with consumers so rapidly that 82% of the global internet traffic has been predicted to come from videos by the year 2022.
2. Increased Time on Emails
YouTube has proved very clearly that videos are extremely engaging. Its 122 million active users consume over a billion hours worth of video content every day.
Clearly, they are having a hard time looking away from their screens, right?
So, there should be no surprise at the fact that videos increase the reading time of your emails. Text content is well and good but when you include a video in your email, you hit the nail right on the head about what your subscriber is looking for.
3. Easy to Understand
Do you know what is a natural result of getting more engaged with a piece of content? You understand the message it is delivering much better.
94% of marketers have claimed that user understanding of their product has gone up after using videos in their marketing strategy. With videos in your emails, you can easily replicate these results.
It's a win-win situation for everyone involved— your subscribers will not be bored and your user understanding will improve!
4. Videos Easily Go Viral
Again, videos are winners when it comes to grabbing people's attention and keeping them hooked. Hence, it is very easy for them to go viral.
People spent hours every day scrolling through videos. There is a reason video sharing platforms like YouTube are so popular, right?
With the right video that is made well and entertains your viewers while also informing them, you can easily expect to go viral.
5. More Social Sharing
Videos are an easy way to go viral. But what does going viral mean?
A major metric to measure the virality of your videos is social sharing, of course! The more people share your videos, the more you will go viral.
This will allow your video to reach a higher number of people and establish the authority of your brand.
6. Rank on Google SERPs
Videos do not directly affect how you rank on Google SERPs. However, they do have an influence over the factors that contribute to how the Google algorithm ranks websites.
More specifically, the Google algorithm prioritizes content value over everything else. Social shares are a very big indicator of whether your video adds value.
If your viewers are sharing your video, it means that it serves its purpose well and will be considered a high-quality piece of content by Google.
7. Increase the Click-Through Rate & ROI
Almost everyone adores videos! So, is it not natural that your click-through rate will improve with videos?
An attractive video will always excite your audience much more than a regular blog post. They can expect to be stimulated and engaged using audio and visuals that require much less concentration.
In fact, email marketers have reported that they experienced a 65% spike in their click-through rates after implementing videos in their marketing strategy. Some have even reported a 300% increase in CTR after using videos in their emails!
Benefits of Video Email Marketing for Marketers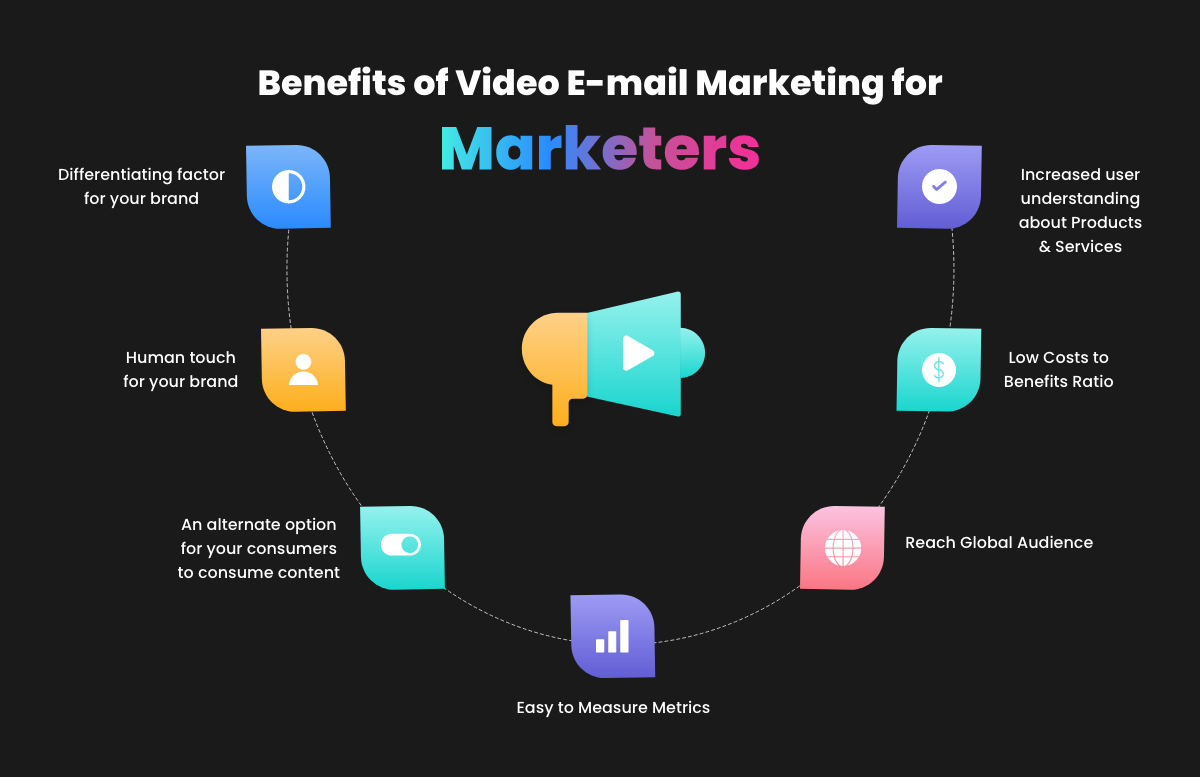 Videos can definitely have a major impact on how your email subscribers look at your brand and its products/services. They come with tons of benefits, making them an irresistible bargain for every passionate marketer out there.
If you are not yet sold on the multitude of benefits offered by video email marketing, here are some major ones that will change your mind:
1. Differentiating Factor for Your Brand
The easiest way to set your brand apart is to use videos.
Considering the flexibility of videos, there is no limit to the amount of creativity you can display through them. You have tons of ways in which you can make your videos stand out and act as a differentiating factor for your brands.
Since videos make a lasting impact on the minds of your users, you will also be leaving a more solid impression on their minds.
2. Human Touch for Your Brand
Everyone loves a friendly face. Books may be adored by many but nothing beats an actual human.
We are sociable creatures. An act as simple as showing your and your team's faces in a video can create a world of difference.
With that human touch, your brand has a better recall value and you connect with your audience on a more intimate level.
3. An Alternate Option for Your Consumers to Consume Content
Everyone loves having a choice and your consumers are not different.
While there is a general consensus that videos are one of the fastest-growing content types in terms of popularity, not everyone has hopped on to this trend yet. You do not want to leave the old school people behind who still prefer reading over watching!
The best way to cater to both types of audiences would be to combine text content with videos which is exactly what video email marketing does.
4. Easy to Measure Metrics
Metrics for measuring your email campaign's performance are fairly simple and straightforward. In fact, most email marketing services provide adequate means for measuring metrics without needing to rely on any external platforms.
With video email marketing, this is no different. The only difference you would be seeing would be the rapid increase in how your campaign performs!
5. Reach Global Audience
The best part about videos is that they allow you to incorporate non-verbal communication and animations for relaying the message you want to convey!
Language can be a huge barrier when you are targeting a global audience. With videos, you can choose to eliminate this barrier completely.
Animations and background music make it possible for you to deliver your entire message without uttering a single word.
Even if you do end up including some verbal commentary into your video, chances are that non-verbal cues as well as the flow of the video will be enough to get the message across to someone who does not speak the language.
6. Low Costs to Benefits Ratio
Including videos in your emails is extremely easy and barely requires any additional costs!
You do need to make an initial investment for filming and editing equipment as well as personnel to take care of the video-making process. However, once the video is made, you are good to go.
You have a variety of video-hosting platforms to choose from— some paid and others free. These platforms will make your video ready to use and easy to embed with minimal to no technical support.
7. Increased User Understanding About Products & Services
We cannot emphasize this benefit enough! Your target audience understands your products and services much better through videos.
For once, you have a better chance of getting their attention and retaining it for long. More focus automatically means a better understanding of the subject matter.
Moreover, you also have more real estate in terms of content to leverage. This will allow you to dive deeper into explaining everything you offer.
Benefits of Video Email Marketing for Leads Generation & Sales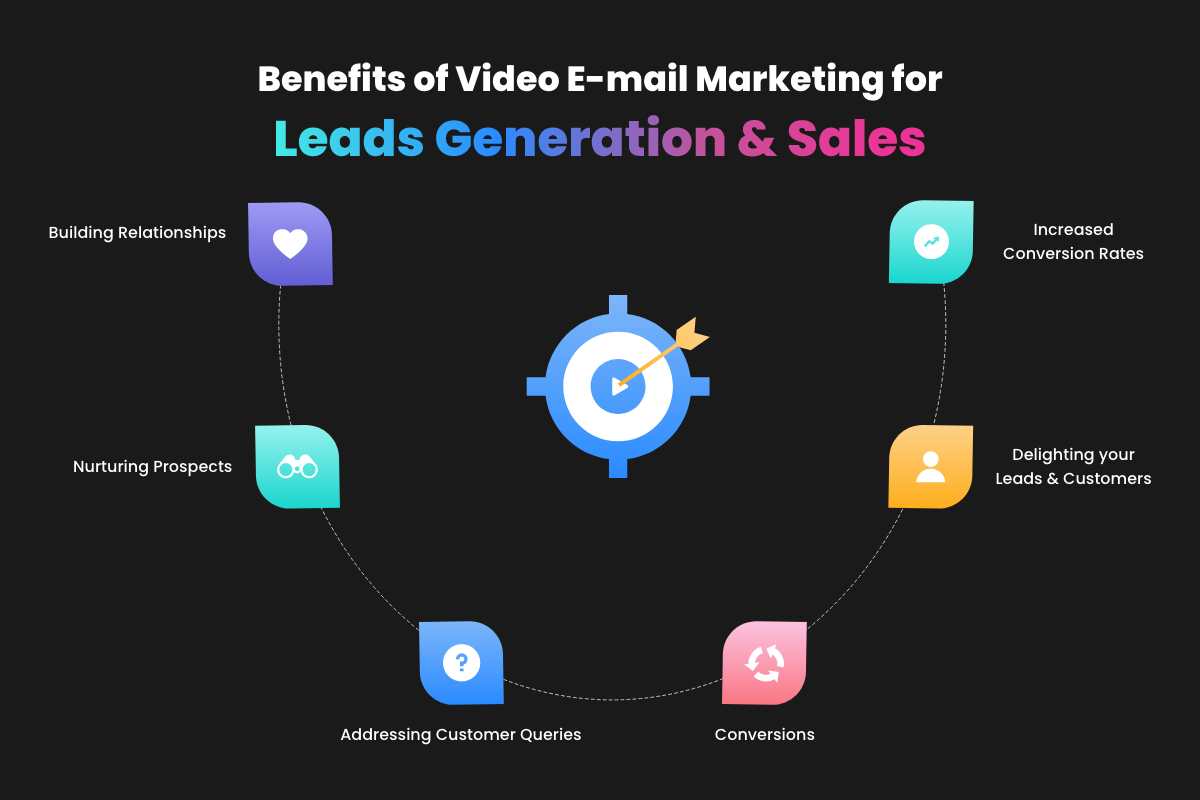 Let's admit it— the ultimate aim of all marketing efforts is to generate leads and drive sales. Video email marketing is no different. You need returns to put your faith into this marketing method.
Considering how to video email marketing is a combination of the two most amazing marketing methods— emails and videos— it has zero chances of disappointing any marketer out there.
Here are some of the fantastic results you can expect if you do justice to video email marketing:
1. Building Relationships
Videos are a highly engaging and deeply personalized form of content that creates a huge impact on the minds of your viewers. They help you establish a more intimate relationship with your audience.
All these aids in building relationships with your audience. By showing up on videos in the right way at the right time, you make your leads and customers feel closer to you. All this builds the authenticity and authority of your brand.
In the long run, you will be able to nurture lasting relationships that nurture trust.
2. Nurturing Prospects
Nurturing prospect is a big part of video email marketing. With its highly personalized and intimate nature, it is one of the best ways to convert leads into sales.
As mentioned earlier, videos solidify the authenticity and authority of your brand. They help in making your prospects trust you and what you offer.
When you combine videos with emails, you are able to communicate with them on a regular basis while also retaining the human touch. By using your videos for testimonials and case studies, you can also back your product/service up with social proof.
A combination of videos and emails is extremely potent and can change many minds in a positive way.
3. Addressing Customer Queries
In an era when the average human has a shorter attention span than a goldfish, no one would like to go through a long list of FAQs. They will consider it a tedious task to be avoided as much as possible.
However, answering questions about your product/service is one of the best ways to nurture the faith that your email subscribers have in you. It can allow you to convert leads and upsell existing customers.
Videos are much more engaging and answer more questions in a shorter period of time. Your customers will always appreciate getting their queries so efficiently!
4. Conversions
With videos, you can guide your leads right from the top of the funnel all the way to conversion.
As talked about already, videos help you nurture your prospects. You build relationships and improve customer understanding of your product/service by delivering information in an efficient and engaging manner. At the same time, you also constantly stay in touch with your subscribers so that they do not ever forget about you.
All this leads your prospects closer to the bottom of your funnel. By strategically placing videos all through your marketing funnel, you can plug leaks to a large extent and increase conversion rates. Also, we need to do research on the marketing tactics before initiating any marketing campaigns. These marketing tactics include do's and don'ts of marketing for videos and how to make a marketing funnel content for each step.
5. Delighting Your Leads & Customers
There is no doubt at this point— the popularity of videos is growing fast and they are a type of content that is going to be around for a long time!
What is there to not love about them? They provide an impressive experience to all their viewers by combining audio and visuals. They allow you to incorporate a human touch by giving you the opportunity to show your face.
Your audience is delighted by them and connects with you and your brand on a much deeper level through videos. If there ever was a way to make your leads and customers feel close to you, videos are the one!
6. Increased Conversion Rates
In recent years, videos have become the go-to strategy for all marketers who want to give their conversion rates an immediate boost.
It does not matter whether they are present on your landing page, products page, or social media advertisements— videos never let you down in terms of improving conversion rates. Why should using them in emails be any different?
Marketers who opt for video email marketing have constantly reported a positive impact and given rave reviews about this marketing method. In fact, video email marketing has the potential of improving your conversion rates by as high as 500%!
Opportunities to Use Videos in Your Email Marketing
Using videos in your emails is clearly amazing. But how do you actually go about it?
If you are new to video email marketing, you may not have a lot of ideas about adding videos to your emails. While there is no limit to the ways in which you can include videos in your emails, we have a basic set of ideas to get you started:
1. Behind the Scenes
Your business is more than just a brand. It is run by real humans who put in tons of effort to make customers happy.
Including behind-the-scenes clips from your business helps your email subscribers feel more connected to your brand. They get to see much beyond fancy advertisements and attractive web pages. They see the nonstop hard work behind their happiness and satisfaction.
If you want to connect with your customers on an intimate level, these types of videos are going to be your best bet.
2. Introducing Team Members
Videos introducing your team members function on the same level that behind-the-scenes videos do— they humanize your brand.
No matter how much we advance technologically, humans will never connect with animations and pixels as much as they will with real faces. So, show your team members off to your subscribers and watch the magic happen!
Even better? Your team members will also feel acknowledged and appreciated for all the hard work they put in!
3. Tease Updates
Curiosity is a very strong emotion that can draw attention very easily. The best way to leverage this would be through tease updates.
Dropping hints about a big announcement will definitely get your subscribers intrigued. It will also build up some hype surrounding that announcement, increasing its chances of being a success.
Moreover, your subscribers will feel like they belong in your inner circle if you let them in on small secrets like these.
4. Product/Service Tutorials
This goes without saying— tutorials about your product or service are a very basic yet effective way of using videos. In fact, 68% of consumers prefer videos over blog posts or infographics for understanding products and services.
No one likes going through several paragraphs to understand your product or service in text. And while conveying tutorials crisply is definitely possible, it is a challenging task that many brands mess up at times!
With video tutorials, your subscribers have a much quicker and engaging way of going through tutorials. You also have more space to talk about some tips and tricks related to your product.
5. Case Studies/Testimonials
Using your videos to talk about case studies and testimonials is another very simple yet highly underrated idea.
Social proof is one of the biggest motivators that drive purchase. With video testimonials, your subscribers connect more with your existing customers and have more faith in the authenticity of the testimonial.
Similarly, with case studies, your subscribers have a chance of taking a look at the difference your product/service is creating.
Best Practices for Video Email Marketing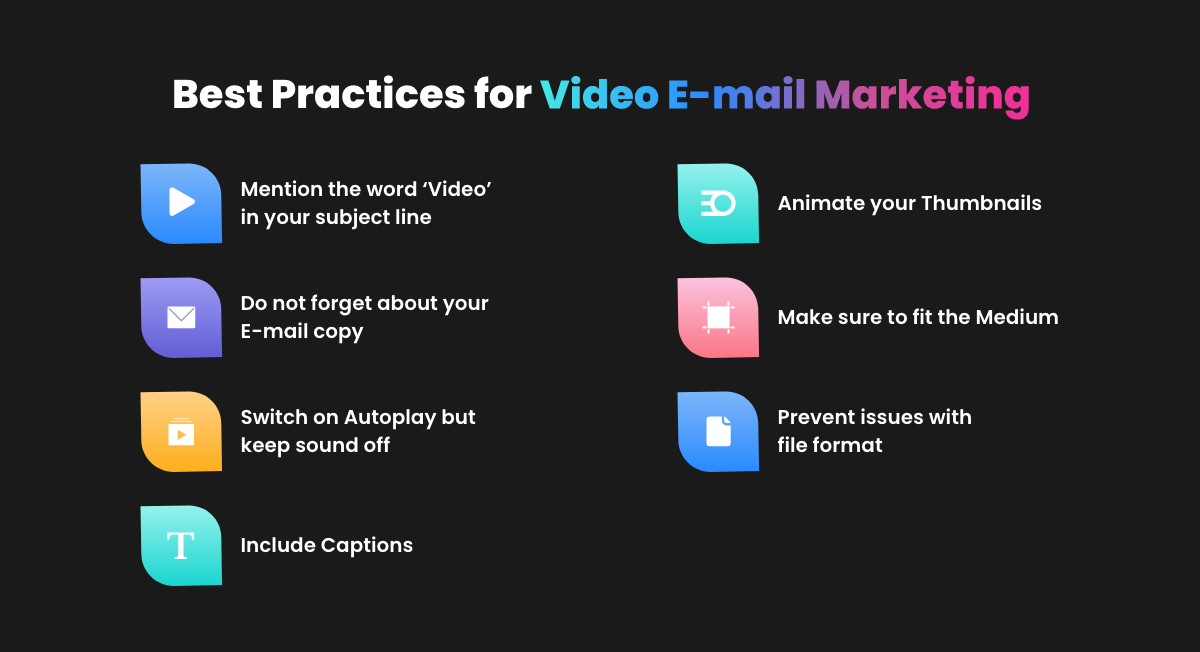 So, you are finally convinced about the amazing benefits of video email marketing and want to dive deep into it as soon as possible. But you might have doubts about how to proceed.
If you are a beginner to the art of video email marketing, here are some of the best practices that can help you reap decent results right from the start:
1. Mention the Word 'Video' In Your Subject Line
Considering everything we have talked about so far, it is very safe to assume that videos are much loved by almost all consumers. So, it should be no surprise that including the word 'video' in your email's subject line automatically gets the attention of your subscribers.
Mentioning the word 'video' in the subject line is a strategic promise to your subscribers. It indicates the presence of a delightful visual experience upon opening the email instead of your regular boring text.
Sounds like a far-fetched assumption? The numbers would speak otherwise.
This small move of informing your subscribers right from the start that your email contains a video makes a world of difference. HighQ's findings report that with the word 'video' in subject lines, email open rates improved by 19%, the click-through rate increased by 65%, and unsubscribes fell by 26%.
Who would have imagined the immense difference a single word would make?
2. Do Not Forget About Your Email Copy
Videos are absolutely amazing for your emails. However, in your quest to make the best use of them, do not forget about your email copy! Even after including a video, you will always need text to accompany it.
An email with no text in it automatically gets marked as spam by most email clients. You would obviously not want your email marketing efforts to end up in the junk folder, right?
Moreover, when you include text in your video emails, you do not risk missing out on those who may not be able to watch your video.
They may belong to the minority that does not enjoy videos. They could be too busy to watch a video and might prefer to skim text instead. They might also be on a device that does not support your video and cannot play it.
In such situations, if you only include a video in your email, you miss out on the opportunity of targeting such subscribers.
3. Switch On Autoplay But Keep Sound Off
Autoplay can be a bit of a menace in certain situations. However, in the case of video email marketing, it is an absolute boon.
If you are following these best practices diligently, you must have already mentioned the word 'video' in your email's subject line. This means that your subscribers are prepared to view a video when they choose to click on your email.
In such a situation, having to click once again to play the video can be irritating for some people. With autoplay switched on, this extra step is eliminated.
However, never switch your video's default sound on. You do not know the environment in which your subscriber is opening the mail. No one will like you if you startle them and disrupt a quiet environment with loud audio.
4. Include Captions
This follows the previous tip about keeping your video's sound off by default.
Just because the sound is switched off, your subscribers should not miss out, right?
A lot of people check their emails during work or in their free time. Not everyone has earphones or headphones around them constantly. Why should these people miss out?
When your video contains captions, they can watch it without having to scramble to grab their headphones.
That is the great thing about videos— there is tons of flexibility to cater to everyone!
5. Animate Your Thumbnails
The reason why people are loving videos so much is also the reason why an animated thumbnail will be your best friend— audios and visuals make everything so much better, of course!
We all love a good GIF. Email marketers are clearly starting to understand this since 57% of them used animated thumbnails for their video email marketing efforts in 2018.
However, beware that this can have a tiny chance of backfiring on you. While most email clients do support an animated thumbnail, some of them might not.
Examples of these email clients include Outlook and Windows 7 phones. For these clients, only the first frame of your animated thumbnail will be shown.
Fortunately, this is a very small minority and almost always worth the risk!
6. Make Sure to Fit the Medium
Obviously, there is no hard and fast formula to determine what device your subscribers are using to watch the videos in your emails. However, that does not mean that you cannot make a reasonable estimate.
If you are targeting a B2B audience, chances are high that they will be opening your emails on desktops and laptops. On the other hand, if you are a B2C brand that is targeting the general consumer, your subscribers will most probably be using their smartphones to check their emails.
Taking the medium into consideration can help you optimize your video. Whether it is determining the length of your video or the size of the texts included in it, understanding your audience can make a difference.
Other factors that you can estimate in order to target your ideal customer better is to consider their viewing time and location.
7. Choose Wisely Between Embedding & Using A Landing Page
Embedding a video in your email means that it gets played directly within the mail. This is a preferable option for many brands. However, there are also a large number of people who debate its effectiveness.
Certain email clients do not support videos. In such cases, you miss out on the subscribers who use them. For such subscribers, leading them to a video landing page with a powerful CTA is a much better route.
Unfortunately, a major issue with using a landing page is that it makes your subscribers take the extra step of clicking once again to end up on the landing page.
Ultimately, the decision of whether you choose to embed your videos or put them up on a landing page depends on who your subscribers are. Make sure that you have a very clear idea about your target audience so that you make the right choice!
You Need to Try Out Video Email Marketing Today!
Are you convinced about the unbelievable benefits of video email marketing yet? They might sound too good to be true but they could not be more real!
If you want to elevate your email marketing efforts and scale your business to the next level through higher leads and greater conversions, video email marketing is your way to go.
Leverage the power of including videos in your emails today. You will not be disappointed at all!