Contents
Video SEO: A Comprehensive Guide for 2023
Videos are without a doubt the most powerful content marketing tool in your arsenal. Even with a measly budget, you can create a video that can make you go viral within hours. Creating an optimized video is the first step towards a successful video marketing campaign. You don't want to provide an average experience for someone who is viewing your video. 
Video optimization is all about using a bunch of technologies to provide a great viewing experience while also reducing the amount of network bandwidth consumed.
What is Video SEO?
Video SEO is all about optimizing your video in such a way that it is indexed so that they rank on search engine results for the keywords that you want. It involves creating video metadata that is relevant for people who are searching for and creating video content that will generate traffic. 
Having videos itself has a lot of effect on the most important SEO ranking factor- content. The actual video data isn't something that is seen by web crawlers, this is why you need to use tags and metadata to lead the crawlers to the video.
How has video SEO changed?
Over the past few years, video has become a pivotal piece in the content marketing puzzle. Most businesses are on a war footing to create as many video pieces as possible. Videos provide a whole new type of flexibility and value that most other content types cannot.
Videos are not only to pique the interest of your target audience, but it is also great for improving your visibility and SEO. In 2003, Google released its new search algorithm called Hummingbird. With this, the focus shifted from keywords to the user's search intent.
What question does your video answer?
Let's say someone's search query is "How to fix a bulb?"
If you search for the above keyword, Google's algorithm is such that it will show at least one video that uses the same keywords. Videos that start with "How-to" or "10 methods to do X" will find themselves appearing on search results more often as Google tries to display informational and educational queries.
Now that there are so many tools to create stellar videos at any kind of budget, businesses are doing everything they can to capture the minds of their users with videos. There is a lot more importance attached to video SEO these days. Google has evolved over the years too, it collects a lot of data and uses machine learning to process all of it.
The only job that you need to do is help Google to make sure that your videos are such that people want to click on them.
Why do we need to optimize the videos?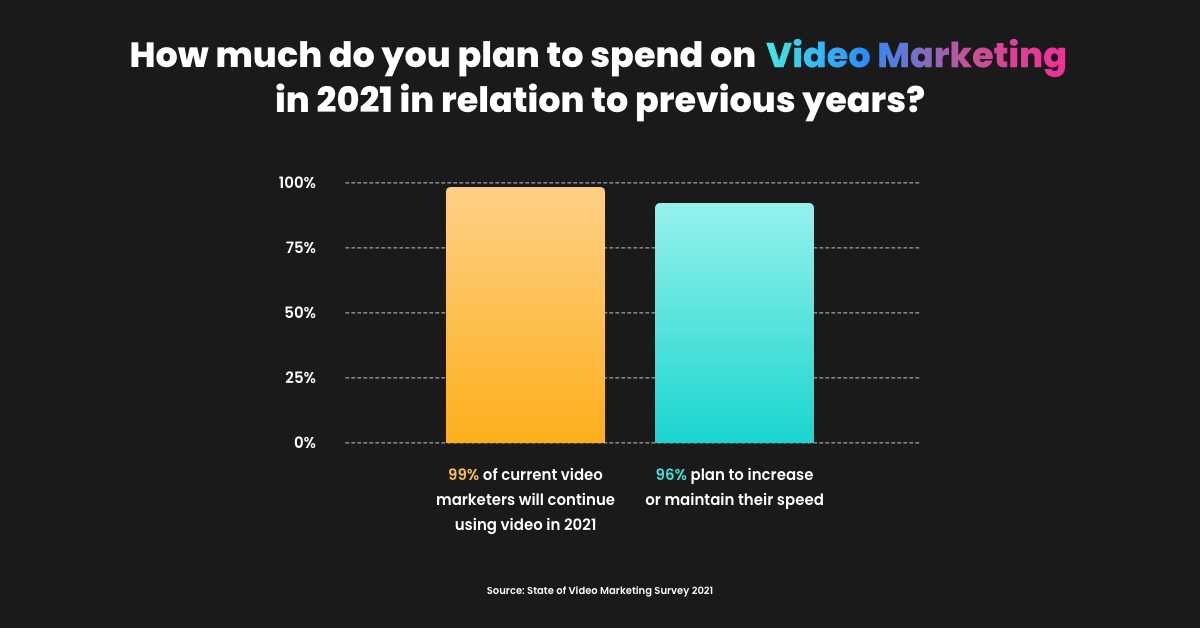 One of the most important reasons for you to optimize your video content for search engines is to make your audience and search engine crawlers consume them better. In 2020, US adults spent more than 103 minutes every day watching digital video on their devices. That's exactly why you need to optimize your videos.
Let us look at a few reasons why you should optimize your videos without fail:
1. Better brand reach:
Your videos can be hosted on any video hosting platform, YouTube or Facebook, or even your own website. If you host it on YouTube, you stand a chance to be in front of 2.3 billion people around the world. With Facebook, that number balloons up to more than 2.7 billion people.
When you host your videos on any platform and optimize them for SEO, the possibility of your videos reaching someone in a remote part of the world is extremely high. There has never been a greater time to capitalize on the power of videos than now.
2. Connect with your audience:
One of the best things about videos is that it requires little effort to consume them. While there will be people who are enamored by photos or textual content, what makes videos a great tool to connect with your audience is their ability to create an emotional connection.
Videos help you to explain things in a step-by-step manner which will even help the most average user understand it. Videos can not only prompt emotional reactions, but they can also be great to educate your audience about your product.
And when your videos are optimized for SEO, they are optimized to reach your target audience. This further takes you one step closer to your audience.
3. Improved customer engagement:
Once you are able to connect with your audience, you want to ensure that they stay engaged with whatever it is that you are trying to tell them.
Having a highly engaged audience is why you need to optimize your videos. When your users are engaging with your content, they are more likely to take any action that you want them to.
By using metrics such as play rate, view count, ad requests, completion rate, number of shares, clickthrough rate, etc., you can easily understand how engaged your users are. Encourage your users to interact with your video by liking and commenting on it.
4. Increase in ROI:
You should not create videos just because others in your industry do. There should be a purpose to it and you should have the right resources to create useful and insightful videos.
Optimizing your videos and adding SEO elements to them will help you get more from them. According to HubSpot's State of Video Marketing report, 87% of marketers are happy with the ROI generated by videos.
5. Understand user behaviour:
It is impossible to find out how your visitors spend time on your site. Thankfully, you can understand user behaviour with the help of videos. How? You can use Google Analytics or check out the analytics dashboard of the video hosting platform or video marketing tool that you use. It will give you numbers on various aspects that will help you understand user behaviour and make better decisions accordingly.
6. Search results visibility:
The level of optimization of your video is proportional to its search results visibility. When your video is optimized, it becomes easy for the search engines to crawl and discover it. Google's objective is to show content that a user is looking for. There are many people who will be comfortable watching a video to understand something rather than read a long article. So if you can optimize your videos accordingly, you can be placed consistently on the top for a particular query.
7. Get leads:
When your video is optimized, not only does your viewer have a great experience, but it will also help them turn into a lead if yours is the solution that they were looking for. An optimized video shows that you take your brand seriously and the same will reflect in the way you treat your customers.
How do videos rank in Google?
To rank well in Google, your videos should be compelling. Not only does the content matter, but so does the metadata if you are looking to rank your videos on Google. Ensuring that your video is well optimized for the likes of Google and YouTube is a great way to get more traffic to your website, improve your brand awareness, and so on.
Below are some of the steps that you should take to rank your videos on the world's most popular search engine:
1. Inbound links:
Getting inbound links from websites that have high domain authority is the holy grail for most marketers. It shows that you are trustworthy since recognized and well-respected websites are sharing your content, and it also brings you a barrage of traffic.
2. User engagement:
Google wants to know if your video piques the interest of your audience. How many people are viewing it? How many of them leave comments after watching the video? If there are many social shares, that is a great sign of engagement too. Google's only objective while crawling content using its search algorithm is to serve content that its audience is looking for.
When there is a lot of engagement for your video, Google thinks that it is a direct result of how useful the content in your video is. Therefore, it will naturally give your video more weightage in its search engine results. You can use PPC ads, email marketing, and social media to direct your videos to more of your target market who will engage with them.
3. Use keyword research to find 'hot' topics:
You might have millions of views, but your video might not rank on Google for anything. It is imperative that your traffic is from sources that you call your target audience. If you want your video to have views from Google, then people need to be searching for that particular topic. Or, the topic should have 'video intent.' Video intent refers to people who would rather watch a video on the subject than consume textual content.
In the above image, the keyword is 'healthy juices' and the location has been input as the United States of America. It shows a bunch of results that include the type of queries that people use with respect to this keyword, the difficulty level of the keyword, search volume, etc.
There are keyword research tools like Moz, SEMrush, and Uber Suggest, using which you can find topics that a large section of your target audience is searching for.
4. Make sure the video is optimized:
Google loves optimized videos as viewers enjoy video content that does not lag or buffer or provide a less-than-optimal viewing experience. If you want to have a high number of views with engagement, then you need to invest in video optimization. Of the many tactics that you will find for ranking in Google, video optimization is one of the critical factors.
5. Add timestamps:
When a user searches for a topic that has multiple steps or it is a long video that has many 'key moments', then it is a great feature to provide timestamps. Let's say your video is hosted on YouTube, then Google automatically enables clips for your videos based on the description that you have written. Otherwise, you can add the important moments in the video.
6. Use an engaging thumbnail:
The first thing that someone sees before clicking on your video is the thumbnail. A simple piece of advice that we will offer is to use a thumbnail that captures the attention of the searcher immediately. Do not use an image from your video, instead, create a custom thumbnail for the video. Use a highly engaging picture for the thumbnail, its quality will also be better than taking a cropped image from your video.
How to optimize videos for SEO?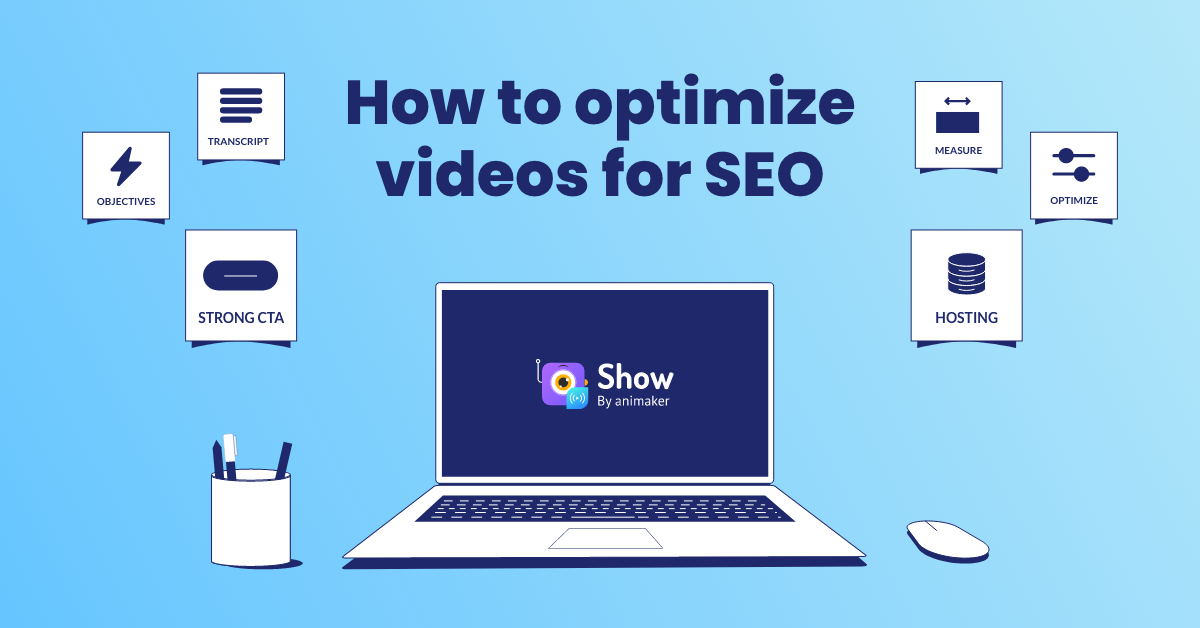 Optimizing your videos for SEO allows you to rank well in the search engine results for the right keywords and phrases. SEO for videos is not the same as normal SEO, so you need to follow the below steps to optimize videos for SEO.
1. Design videos with your objectives in mind:
No strategy begins without having a strategy and its objectives. The same goes for the strategy to optimize videos for SEO.
Any video worth its salt will be a successful one only if it was made with clear objectives. This dictum applies everywhere. If you have the right strategy for your video, it can be your most powerful sales channel and not just a tool to create brand awareness. The concept that you create for your video should be in line with the objectives of the business.
Here are a few things to keep in mind to achieve your objectives:
Write down the list of objectives that you have for this video.
What is the kind of emotion that you want to invoke in your viewers?
What are the tools necessary to create the right video?
Do you understand your viewer persona?
What are the things that your audience is looking for?
What are the steps of action that you want your audience to take after they watch your video?
Once you have an idea about all of these, you will be able to create videos that will be closest to what your audience expects from you.
The above video was a part of Coca-Cola's Taste the Feeling campaign that taps into the relationship between brothers. The ad packs a punch with its emotions and the build-up of tension until the very end adds to its charm.
2. Introduce strong CTAs:
If there is no concrete instruction to your video's viewer about the next step that you would like them to take, you are making a grave mistake. Most of us have watched business videos that kindled our interest, but you never knew how to contact them after that. Marketers know the importance of a CTA or Call-To-Action button. Unfortunately, many of them miss out on including them in videos.
Here are a few CTAs that you can include in your videos:
Free trial
Direct them to a webinar
Offer a free consultation call
Sign them up for a demo
Insert surveys
Direct them to a different video
Conduct polls
Enter them into a contest
The above are just a few video CTA examples, you are only limited by your imagination. The only thing that you need to keep in mind is that your viewer should be directed somewhere else where they either get to interact with your content or you should collect their details. So that was another step towards optimizing your videos.
3. Use any lead capture method:
The purpose of using video marketing is to drive leads. And we cannot skip them while discussing ways to optimize videos.
The lead-capture form is a marketer's best friend. After your video is ready, you need to have an email gate so that you can collect the details of the visitor. Many video hosting platforms allow you to add forms at the end of the video so that you can collect information. In fact, you can add multiple fields in the form to collect as much information as you want, although we would advise you not to go overboard with collecting too much information.
Here are some tips on how to capture leads through videos:
Use only a few fields in your form
Offer them an attractive piece of content in return for their information
Capture information of leads who are already warm
4. Add SEO-related information:
Optimizing your video cannot continue without talking about optimizing them for SEO.
If you want to make your videos search-friendly, you cannot slack on the SEO part. Here are a few things you can do to have a successful SEO game for your videos:
Use transcripts: Since Google or YouTube does not crawl all the words in your videos, they cannot do a great job of finding the video. Here's what you can do. You can either transcribe your video or turn it into a blog post. You will not only be able to push relevant content for the search engines, but it will also alert the search engines regarding the context in which your videos are posted.
Distribute the video on different channels: Use different titles and post them on a variety of channels including YouTube, Google, Instagram, etc. It will help you reach more people.
Use keywords: Find out the keywords that are ranking currently for your niche. Ensure that these keywords are used in the video's title and meta description.
5. Measure your performance:
If you want to make sure that your videos are fully optimized, then you need to ensure that you measure their current performance. Unless you do so, you wouldn't have anything to benchmark it against to see if there is an improvement in the performance of your videos.
Understanding the performance of your campaign based on a select few metrics will help you identify where you are doing great and the areas that need improvement. How much time did the average viewer spend on your video? When did most of them drop off? How many of them used the CTA in your video? The answers to the above questions and many more will lead you to arrive at a better strategy.
6. Create the right type of video content:
If you want your videos to perform well, you need to create content that resonates with your audience. It can either be emotionally powerful or educative to the audience. You cannot create a video where you over-promote yourself, it can be a turnoff to most people. Gone are the times when marketers could write brazen copies, we are living in an age where subtlety works.
The visitors on your video watch it because they have a certain purpose in mind. The content that you create should be in line with their needs. Also, make sure that you do not create unnecessarily long videos.
7. Choose the right video hosting platform:
When you use a video hosting platform, it comes with a host of benefits. It comes with an arsenal of features that gives you enough firepower to boost your video's visibility. It gives you a lot of control of the video, including placement of CTA buttons, link embedding, layout, and so on.
If you do not want a highly professional video using high-end equipment, then you can make do with free hosting sites like YouTube. But it will certainly affect the quality and visibility of your video. There are a lot of factors that you need to consider before choosing the video hosting platform according to your needs.
8. Add transcripts to your video:
We couldn't insist more on the importance of adding transcripts to your video. Here are a few benefits of doing it:
It can be highly helpful for people to understand the content in the video better.
Viewers can watch your videos without having to worry about disturbing those in their vicinity.
It allows the search engines to crawl the full file, thereby properly indexing it. To put it in other words, Google cannot watch your video, but it can certainly read your transcripts.
Transcripts make it easy for your viewers to find videos that they are looking for.
They are useful to scan and search for key phrases or words that have been used in the video.
Provides a great experience for the viewer.
9. Optimize your web page around the video:
Do you know why many videos do not make the impact that is expected of them? That's because these videos are too difficult to find. Even search engines will find it difficult to crawl your video, this is exactly why it is imperative that you work on optimizing your web page around the video. Make sure you design your entire web page around the video.
10. Don't embed the same video on multiple landing pages
If you ask any SEO expert, they will tell you that creating multiple web pages for the same keyword is a disaster in the making. Why? When these pages get indexed for the same search terms, it competes with each other for search rankings.
Also, don't embed the same video on multiple pages on your site. Make sure that the video you add on a landing page is relevant to the content that is present there. It will ensure that your video and the page will rank for the right keywords that you are targeting.
11. Choose a platform with video SEO optimization:
When choosing a video platform, make sure that it comes inherently with a lot of features, especially a video platform that has SEO optimization capabilities. It should have a variety of provisions to make your video SEO compliant. The platform should make it easy for the web search crawlers to read your title, meta tags, description, and other SEO elements. Your video should rank for a huge number of relative search terms. By choosing the right kind of video SEO optimization platform, you will be found by the right audience and the search engines will be even more interested in you.
Conclusion
We are hoping that you have a much clear understanding of video SEO and how to optimize your video after reading this article. Do remember that a lot of the things that we spoke about the need to fall in place to ensure that your videos are optimized. We understand that there is a lot of time and effort that goes into making optimized videos, but the effort is worth it. You cannot afford to slack when it comes to achieving video optimization, your audience expects it from you, and they consider it as the bare minimum.